We always consider ourselves so lucky to have such fantastic meat reared locally and well.  This is a recipe created to use up cuts such as the shanks, neck or breast if you don't fancy using them as they are, mincing and adding wonderful complimentary spices.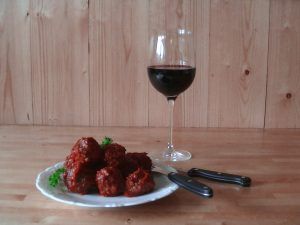 Print
Mutton meat balls in a tomato and sweet pepper sauce
Delicously spiced meatballs are served in a rich tomato sauce. You can make this the day before you need it and let the flavours develop further in the fridge overnight. It also freezes really well.
Ingredients
For the meatballs:
2lb minced mutton
1 tbspn sweet paprika
1 tspn chilli powder
3 larges cloves of garlic, crushed
several grindings of black pepper
good grinding of salt
oil for browning the meatballs
For the sauce:
400g tin of chopped tomatoes
500g jar of passata
3 sweet peppers (a mix of red, yellow and orange is fine)
3 cloves of garlic, crushed or finely chopped
2 tbspns sweet paprika
1/4 tspn chilli powder
several good grindings black pepper
grinding of salt
large glass red wine
1/2 tspn sugar
oil for frying
Instructions
Start by making the meatballs:
Mix all the ingredients together in a large bowl. These is easier done by hand as you can squish everything together
Fry the meatballs off in batches in a large frying pan. Take care not to have the pan too hot otherwise the balls may break up. Ensure that they are all nicely coloured all over
Remove from the pan and set aside for later
Next make the sauce:
Finely chop the peppers and garlic
Lightly fry the peppers for a few minutes on a medium to high heat until starting to soften and then add the garlic. Fry for a minute more
Add the sweet paprika and chilli powder and stir again until the peppers are nicely coated and you can smell the spices
Add the tomatoes and passata and stir. Half fill the empty tomato can with the wine and use this liquid to 'wash' the tomato tin and passata container so that all their contents are gathered and added to your pan
Add the salt, pepper and sugar, bring to a simmer and let the sauce bubble away for about 45 minutes
Bringing it all together:
Add the meatballs to the sauce and let them simmer away very gently half covered with the pan lid for about an hour. Cooking the meatballs and sauce slowly like this lets the flavours marry nicely together
Notes
We like this served with green mustard mash and lightly spiced roast cauliflower. It is also lovely with spaghetti and of course either way, a glass of your favourite wine is a must!